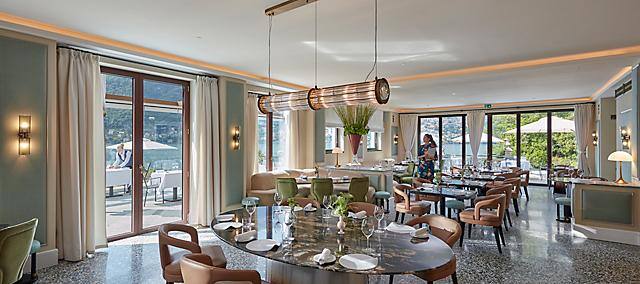 Lake ComoL˜ARIA
Refined cuisine in an elegant lakefront setting
Immersed in the botanical park, L˜ARIA serves refined Italian cuisine in an elegant lakefront setting.
Executive Chef Vincenzo Guarino promotes an authentic cuisine based on traditional Mediterranean dishes – but with a personal twist. He marries high-quality ingredients, different techniques, inspiring flavours and aromas to produce a multi-sensory approach. With each dish, Vincenzo tells a story, recounts a personal memory and brings the excitement of his creative Mediterranean cuisine to life.
A specially crafted tasting menu pays homage to Lake Como and the surrounding area. The emphasis is on fresh local produce, most notably lake fish, along with meats from cattle raised on Alpine pastures and organic greens.
An open-plan kitchen allows diners to watch the chefs at work, while al fresco meals can be enjoyed on the restaurant's open-air terrace that commands wonderful lake views.
Ris.cotto
Risotto with yellow tomato, raw red prawns, smoked buffalo "lattecotto" from Casa Turillo
The Lake in Costiera
Homemade "Fagottini" stuffed with smoked eggplant and vendace, bread chips and bouillabaisse sauce
Don't worry, It's gluten free!
Almonds tartlet with creamy rice, saffron, candied vegetables, cherry sorbet and mango spiral