Landmark
Fitness, Yoga & Pilates
Fitness, Yoga & Pilates
From Yoga and Pilates to working-out, jogging, golf or swimming, we'll help you find the best route to wellbeing for you.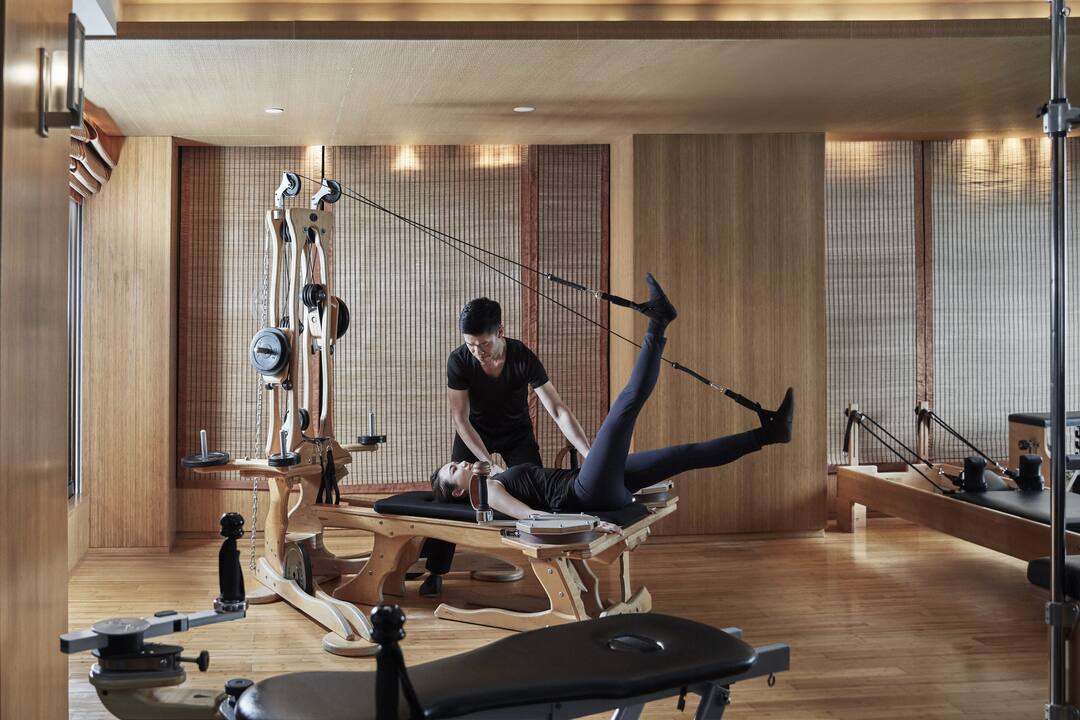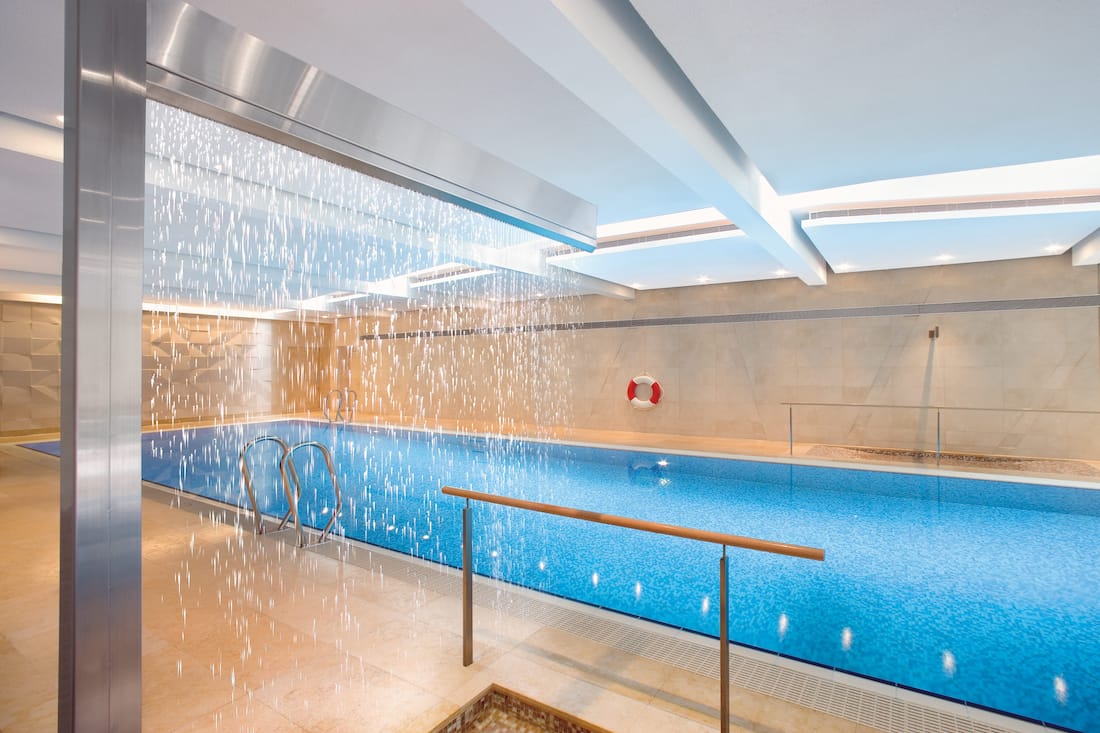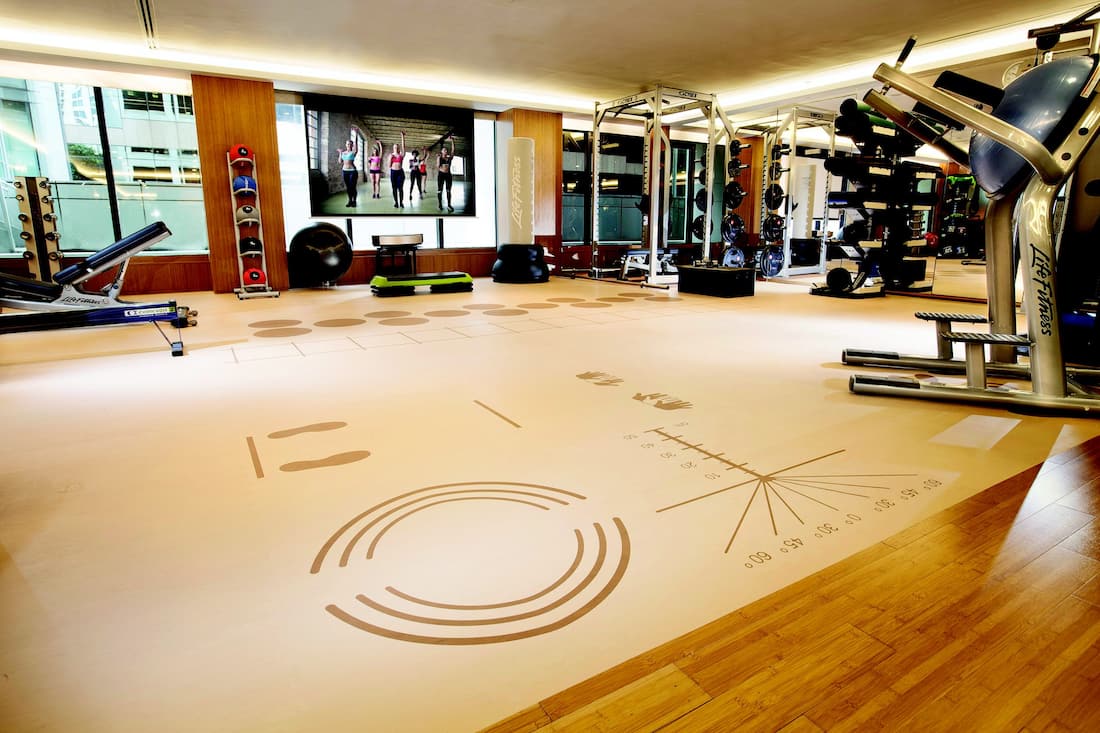 6am – 10pm (Daily), 24 Hours For Hotel Guests

6am – 9pm (Daily)

6am – 10pm (Daily)
Fitness centre
Our spacious fitness centre is the place to work on toning muscles, increasing stamina and improving health. With a range of equipment including the latest cardiovascular machinery, we can create an appropriate programme suited to your individual goals. In addition to general fitness orientations, we also offer fitness assessments and personal training sessions.
Pilates
Our dedicated Pilates studio is fully equipped with results-driven equipment including a Gyrotonic pulley tower and a trapeze/reformer combination designed to help you achieve full body strength and balance. Specialist instructors are available for one-on-one sessions and are able to create bespoke programmes to meet individual fitness needs. Group mat-based classes are also offered every week.
Yoga
Awaken your inner senses with this ancient holistic practice. In the calm of our light-filled studio, our specialist instructors will lead you through a sequence of poses to help you energise and self-reflect with movements to build body awareness, balance and muscular control. A range of daily classes and styles are offered for all levels, with one-on-one private tuition available to enhance your practice.
Swimming pool
Open to hotel guests and spa members, our 18-metre heated indoor pool is the most centrally located swimming pool in Hong Kong. Salads, juices and light refreshments are available from the poolside area.
Announcement 
For safety, please note that the maximum occupancy for the pool is three people. In the event that capacity is reached, further admittance to the pool will be on a 'one out, one in' basis. Thank you for your understanding.
Special Announcement: In light of the outbreak of the novel coronavirus, please note that the swimming pool, Sauna and the Heat & Water facilities are temporarily closed.
Meet our Fitness & Wellness Specialists
Yogesh Varun, Yoga Master
Master Yogesh is a highly qualified instructor with undergraduate and postgraduate diplomas in Yoga and Naturopathy. He started practising yoga at the age of 10 and has won numerous yoga competitions as well as being globally-regarded as a yoga journal writer and yoga teacher. His teaching methods are rooted in tradition and simplicity, enabling students to build a strong foundation for their own yoga practice. Master Yogesh specialises in Hatha, Pranayama, Meditation, and Yoga Therapy and his vast range of postures and skills encourage students to really deepen their yoga practice.
Vali Tso, Spa Therapist
Educated in Traditional Chinese Massage and Acupuncture & Moxibustion at Shanghai International Rehabilitation of TMC College, Vali is a Chinese massage specialist with 29 years of experience. He started working at The Oriental Spa in 2005. The treatments Vali offers are Traditional Chinese Meridian Massage, Reflexology, Cupping, Oriental Essence Massage, Therapeutic Massage, Thai Massage, Aromatherapy Massage and Hammam.
Anna Wong, Pilates Specialist
Anna began her career as a funky dance teacher in Hong Kong and performed stage musicals throughout Asia. Her progression to Pilates was initially motivated by her desire to relieve her own dance-related injuries and to achieve improved posture. Anna has been teaching Pilates professionally since 2007. She is a qualified Gyrotonic and Gyrokinesis Pilates Instructor as well as a qualified advanced Personal Fitness Trainer. Anna's speciality is in body movement and postural adjustment. Her warm and precise style of teaching is highly regarded by her loyal followers.
Albin Brion, Studio Manager
Professional footballer to foot care may seem an unexpected career move but Albin learned the importance of podiatry when he was injured on the playing field. Born and raised in Paris, Albin studied podiatry before training under Bastien Gonzalez, the internationally celebrated foot virtuoso. Albin has worked at five-star hotels on several continents and also performed pedicures for celebrities at the Cannes International Film Festival. He offers exclusive pedicure treatments as well as BGA InSoles® made-to-measure consultations.